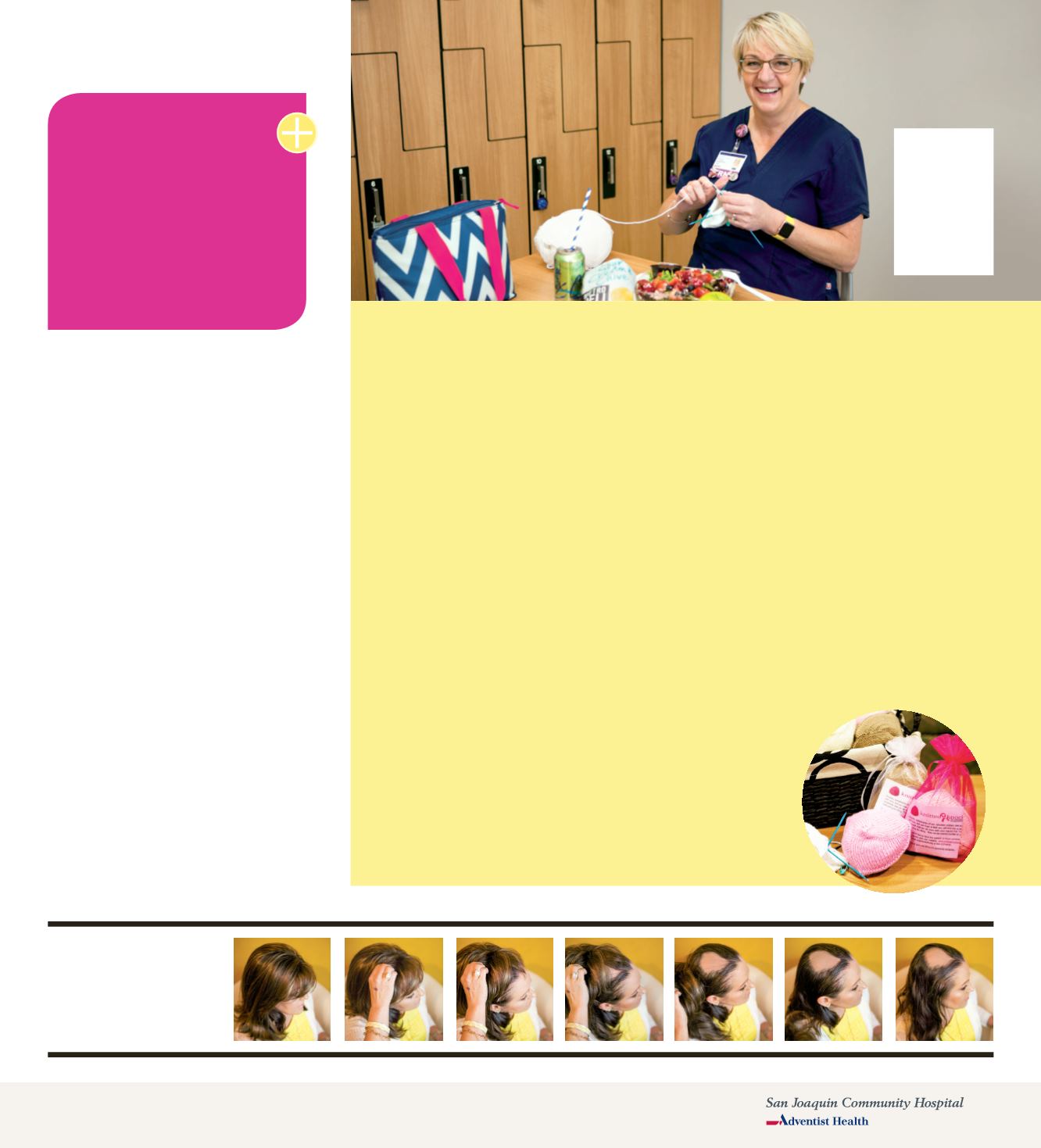 7
issues," Kelly says. "You see many of these
women through their cancer treatment and
form a real relationship with them."
Fun and affordable
Kelly helps about 20 women a week find
attractive wigs. She'd like to help even
more, but she knows that some women are
hesitant to come into the shop.
"No one wants to lose their hair," Kelly
says. "That's why I have made my shop
as fun and inviting as possible. We also
encourage women to bring friends and
family with them so we can have a wig
party! Everyone tries on fun styles."
Cost is another concern for some women
considering a wig. "I never turn anyone
away because of money concerns," Kelly
says. "We always make it work."
Women going through cancer treatment
get 30 percent off their first two wigs. If
someone can't afford a wig, The SJCH
Foundation has a fund to help.
"I've also had cancer survivors come
back and buy a gift certificate for someone
who can't pay for a wig," Kelly says. "I
set the certificate aside and use it when
needed. It's a beautiful way to pay it for-
ward from one woman to another."
Knitting with a special purpose
GETTING REAL:
Kelly
Giblin's own experience
with hair loss helps her
relate to the women she
serves.
Where wigs bring about
sweet smiles.
Lemonade
Locks is a full-service wig
boutique located on the
second floor of The AIS
Cancer Center, 2620
Chester Ave., Bakersfield.
To learn more, visit
lemonadelocks.com
.
WAYS YOU CAN JOIN THIS CARING CAUSE
Local knitters have been working away, Jacqui says. However,
the demand is great, and more helping hands are needed.
•
Knitters who would like to help can find the pattern online at
knittedknockers.org
.
•
Finished pieces can be dropped off at The AIS Cancer Center.
•
Donations of yarn or Poly-Fil are also appreciated.
•
For more information, email:
EngstrJA@ah.org
.
The name Knitted Knockers might take you a
bit by surprise, but women who receive these
handmade gifts are more likely to shed tears of
joy and thankfulness.
Knitted Knockers are soft, comfortable, knitted
prosthetics for women who have undergone
mastectomies. They're given to women who are
waiting for reconstructive breast surgery or to
those who can't or choose not to have reconstruc-
tive surgery.
The AIS Cancer Center at San Joaquin Com-
munity Hospital (SJCH) is the only place in Kern
County to offer these free prosthetics, thanks to
Jacqui Engstrand, RN, a nurse at the cancer center.
Jacqui actually learned about the Knitted
Knockers project from one of her patients. "I have
been a knitter since I was 7 years old. I immedi-
ately looked the project up online, and decided
it was something I wanted to do for my patients
and other cancer survivors in our community,"
she says. "It combines two of my loves: caring for
cancer patients and knitting."
What makes these knitted prosthetics so special
is that they are lightweight and can be worn just
four weeks after surgery, unlike traditional types
of breast prosthetics. Knitted Knockers come in all
sizes and colors. The soft prosthetics can be worn
in regular bras and swimwear. They are made
from durable, washable, nonwool sport or baby-
weight yarn. Once a knocker is knitted, it's stuffed
with polyester fiber fill, or Poly-Fil.
It's now Jacqui's mission to bring this world-
wide project to every woman in Kern County who
needs it. She even joined a local knitting group,
What the Knit, to recruit other skilled knitters to
support the project.
Jacqui
Engstrand,
RN, often
spends her
lunch hour
knitting
for Knitted
Knockers.